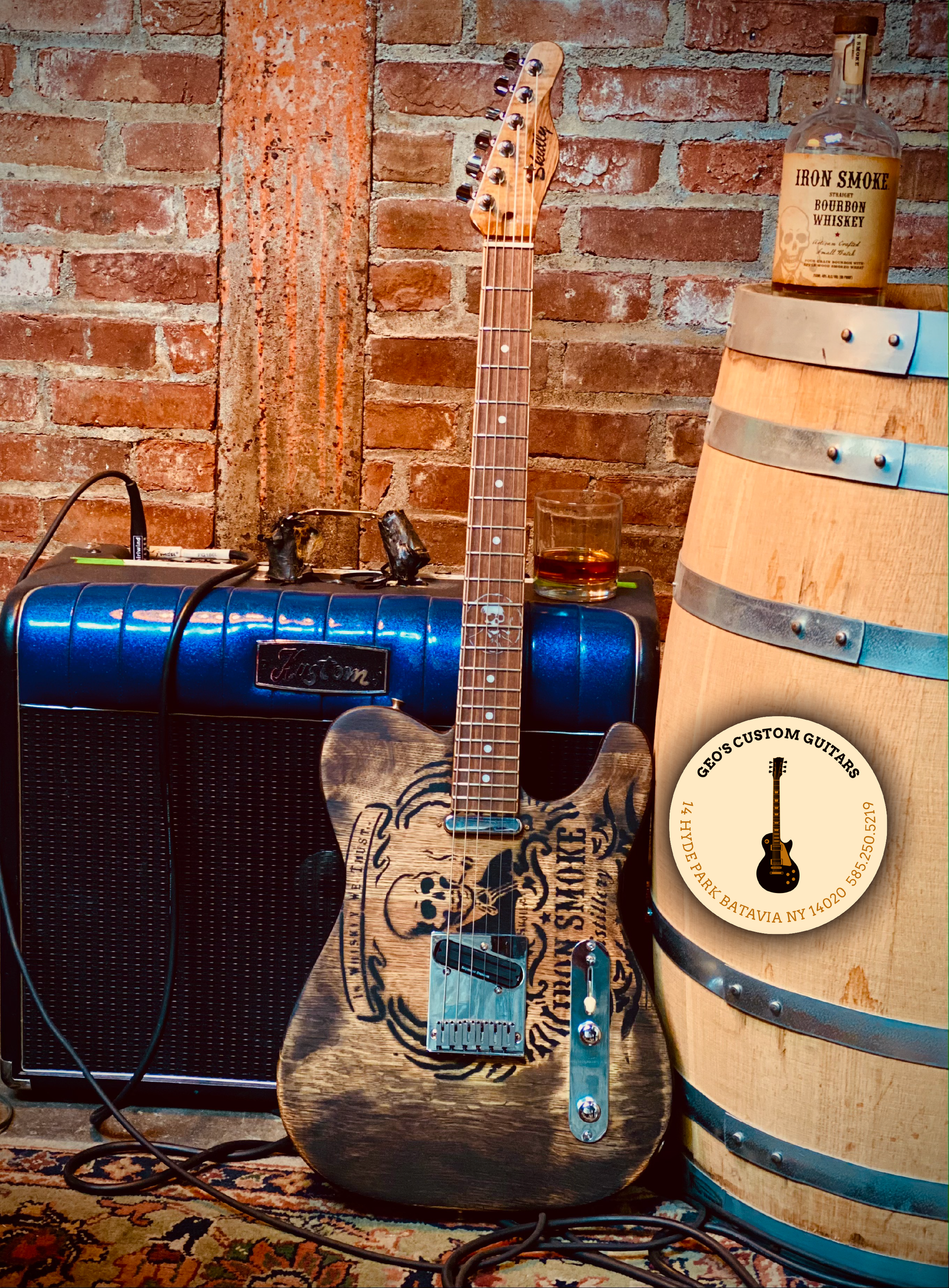 Limited Edition Iron Smoke Tommy Brunett Signature Telecaster Guitar - Made From Our Barrels!
White oak semi hollow body, made from Iron Smoke Bourbon Barrels
Built to exact spec from Tommy Brunett's famous "Cash" Fender Tele.
11-49 D'Addario XL strings
Dual action truss rod
Fender American 14:1 ratio tuners Bone nut 12inch radius fret board Walnut fret board Medium Jumbo frets Flame Maple neck White Oak semi hollow body Made from Iron Smoke Distillery Bourbon Barrel Fender American series Bridge 500K volume and Tone pots 47 K Capacitor Oak Grigsby 3-way switch Switch craft jack Seymour Duncan Hot rail bridge pickup 16K Seymour Duncan Vintage neck pickup 7.6 K Standard strap buttons
Each guitar hand signed and numbered by Tommy Brunett
Custom Built By:
Geo's Custom Guitars
14 Hyde Park Batavia NY 14020 
Shipping
No, we only can ship within the United States.
It depends on where you are. Orders will generally take 5-7 business days to arrive!
Order Tracking
Please check your email around the time you ordered, you should have gotten an email! If you can't find it, you can contact us through our contact page! We will be happy to assist you.
Please check your spam folder! Sometimes, your email client puts them in there by default. If you're struggling to find it still, please reach out to us at merch@ironsmokedistillery.com.
Ordering Whiskey
Since Iron Smoke Distillery uses a fulfilment partner for alcohol, our merchandise is not on site with them. We sell whiskey through our partner online store, located at buyironsmoke.com which can be ordered seperate, direct from our fulfilment partner.
Visit buyironsmoke.com to order Iron Smoke Distillery spirits! The order will be seperate from any merch order due to it shipping from seperate locations.